This page may contain affiliate links. As an Amazon Associate, we earn from qualifying purchases, at no additional cost to you.
Ice augers are having massive changes in their functionality, design, and efficiency in the past few years. You can still find the gas-powered ones, but to be honest, ice anglers are not even getting their hands on those anymore, at least not after the electric ones are on the loose.
Why electric ice augers? Well, you of all people should know that they can drill holes way better than the ones that run on gas. Plus, they're light in weight and need low maintenance.
If you are looking for the best electric ice augers, boy, we do have good news for you! In this article, we are going to be reviewing our top 5 selections and help you find the best one. Excited to know more? Stick around till the end of this article!
5 Best Electric Ice Auger Reviewed
We can't let you go ahead and buy some random hardware store ice auger, so we handpicked 5 of the best ones, in our opinion. We have reviewed each of them along with their pros and cons for your convenience. Let's get right into the reviews then, shall we?
Right off the bat, we have one of the best battery-powered ice augers by the brand ION. We must mention that the brand does a great job at making ice augers, and this one is certainly proof of that.
This amazing ice auger offers smooth cuts while drilling holes through the ice bed, thanks to the aluminum cast bottom. The blade positioning on this auger is perfectly centered, allowing it to create nicely shaped round holes.
Moreover, this electric auger uses a 5 amp-hour XC5 battery which claims to offer 60% more storage than the regular ION battery used in other augers. This battery ensures drilling up to 66 holes through ice of 2 feet thickness with just a single charge. 1600 inches of ice on a single charge is no joke.
Along with being very powerful, this auger is also convenient to use, be it during the day or in the darkness of the night. It comes with LED lights that can illuminate the surface of the ice for a more precise cut during the night.
On top of that, it is very lightweight, making it an even more desirable option. So, if you want to invest in a high-quality electric ice auger, this one by ION should be your best bet.
| Pros | Cons |
| --- | --- |
| ✅ Very lightweight and convenient to carry | ❌ The product gets pretty cold, making it hard to hold |
| ✅ Great battery quality | |
| ✅ Comes with LED for use in the dark | |
| ✅ Equipped with precision blades | |
| ✅ Pretty durable | |
---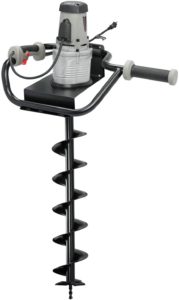 Here, we have one of the best electric ice augers, the Hiltex 10525. This auger is certainly a product that stands out from most of the hardware store ice augers you will come across.
This high-quality auger measures about 30 inches in length and about 4 inches in width (yes, also in inches). You start drilling ice with this thing, and you know you're in for a pretty large hole for fishing in the cold.
It is initially meant to be an earth auger, so you can not only drill on ice but also create a hole in your backyard. This auger is pretty powerful. It uses 11 Amps, 1200W, and a whopping 1.6 Horsepower to deliver high performance while drilling that ice bed. The blades run at a 90 ft-lb torque along with a speed of 200 RPM.
You would think it would be hard to handle such a device that uses incredibly high speed and an intense amount of power. But that is further from the truth; this ice auger comes with a professionally designed handle that ensures a strong grip and reduces the effects of the vibration.
It's also got a safety lock that can prevent any sort of accidental triggers and ensures additional security for its user. Check it out if you think this is the best one for you!
| Pros | Cons |
| --- | --- |
| ✅ Very powerful | ❌ It is not battery-operated |
| ✅ Uses high-quality blades | |
| ✅ Versatile thus can be used on the soil as well | |
| ✅ Ergonomic design | |
| ✅ Handle with strong grip along with safety lock features | |
---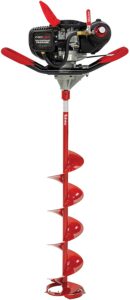 I know we are reviewing the best electric ice augers, but we cannot ignore this bad boy, for it is one of the best augers in the market. The propane-powered Eskimo HC40Q8 is a force to be reckoned with.
With a 40cc high-compression engine, this incredibly powerful ice auger delivers performance like no other. It comes with a unique centering ring that measures 8 or 10 inches in width. This is perfect for drilling holes into the ice, that too with precision.
This auger, being a propane-powered one, comes with a quick-release bottle that can hold up to 1 lb of propane which can be connected and disconnected easily according to your need. You also don't need to prime your engine before starting it. All you have to do is open its valve, recoil, and get on with drilling!
One could argue that propane or any gas-powered machinery would cause a lot of carbon emissions. While it's not a lie here, it does limit the emission and let out clean-burning gas.
We wouldn't recommend this product if you strictly want to stick to the battery or electrical-powered ice augers. If that is the case, you may proceed to read the next review. However, if you're willing to try out a fuel-powered option, give this one a shot for sure!
| Pros | Cons |
| --- | --- |
| ✅ Very powerful | ❌ Not powered by electricity or battery. Need to stock propane to run this beast |
| ✅ High fuel capacity | |
| ✅ Strong blades for precise drilling | |
| ✅ Minimal carbon emission | |
| ✅ Pretty convenient to use | |
---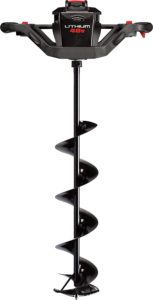 If you want a battery-operated ice auger, or more importantly, an electric ice auger, you will like this one better than the previous one. The Lithium 40V ice auger by StrikeMaster is certainly one of the best there is!
This is the kind of ice auger you know that you can rely on from the get-go. If you are going for a fishing trip on the ice and won't be coming back for a while, you want an ice auger with a high battery capacity.
We won't tell you how much the battery amperage is. However, we will tell you how long it will last you. If you get this ice auger, you can rest assured that this bad boy will die off after drilling at least 100 holes just with a single charge. If that doesn't show how good the battery is, we don't know what does!
On top of that, it has a good internal battery management system that ensures the longevity of its battery, making it even more high quality.
Enough about the battery and power supply; what about the blades themselves? Well, they don't fail to impress us either. You get twin serrated laser blades made of stainless steel that can easily cut through 16 inches of ice.
| Pros | Cons |
| --- | --- |
| ✅ Incredible battery | ❌ According to some customer reviews, they received faulty blades. So it is important to check before buying |
| ✅ Can drill through 16 inches of ice | |
| ✅ Internal battery management system improves battery longevity | |
| ✅ Durable build quality | |
---
And for the final product of this list of the best battery-powered ice augers, we have this amazing one by RAZR. The 40V Lithium ice-auger by RAZR is definitely one of the best in our selection, and for a good reason.
It comes with a 40-inch long auger blade that can easily cut through 3 feet of ice without any difficulty. Yes, you read that right. The curved blades this auger uses to make the drilling seem absolutely effortless.
On top of that, the impressively powerful battery allows you to drill up to 1785 inches of ice on a single charge. Yeah, we're not entirely sure what the manufacturers mean by this, but we assume these inches are in terms of the amount of area it can drill before burning out.
A 7 amp-hour battery is no joke, we're telling you. Also, the battery does not only power the auger itself but also the LED lights that are built-in to provide some illumination to the night fishermen in the north.
One feature that makes this ice auger stand out from the rest is that it has a reverse function that allows anglers to clear out any slush from the holes they drill. If that is something you are looking for in an ice auger, quit hesitating and get this one already!
| Pros | Cons |
| --- | --- |
| ✅ Highly powerful battery | ❌ Blades are insanely sharp, so it is important to handle them with care |
| ✅ Can cut through 3 feet of ice | |
| ✅ Reverse function for clearing out slush | |
| ✅ Comes with LEDs for lighting in the dark | |
| ✅ Durable build quality | |
---
Electric Ice Auger Buying Guide – What to look for?
Before you make a purchase on a whim, our advice to you would be that you go over this informative buying guide we have prepared for you. This should help you pick out the best one for your purpose.
Blades
First and foremost, the blades are something you want to pay attention to. The reason is obvious: they would be drilling holes in the ice. So, while buying an ice auger, carefully select the blades.
You want to go for something that is sharp enough to easily cut through the ice but not too sharp that might be dangerous to handle.
Other than that, the length of it also plays a big role in how well the auger would perform. Most battery-operated ice augers come with pretty long blades that are sharp enough to get the job done. If you choose one from our top 5, you don't have to worry about a faulty blade.
Battery
Right after the blades, you want to look at the battery life. If the battery life cannot back you from drilling at least 60 holes, you better look for a better one. Some high-quality ones can even survive up to drilling 100 holes. So, get an ice auger with high battery life.
In terms of battery specifications, look for ice augers that have a battery life of over 5 amp-hours. Some of our top picks even have a battery of 7 amp-hour, so if you're going to get a good ice auger, you might as well invest a few extra bucks for the best one, right?
Electric vs. Fuel
This is a debate that has no proper answer. But since we are reviewing the best electric ice augers, it is natural that we would incline towards it more. And for the best reasons. These augers are more reliable and can withstand harsh environments as well.
However, even we couldn't resist including a fuel-powered option, as some of them can be very high-quality and on par with the electric ones. So, if you are going to go for a fuel option, choose the one we recommended above.
But in general, in our opinion, electric augers are a better choice. So, we suggest that you opt for an electric option, preferably a battery-powered one, to save you all the hassle.
Handling
You can't expect to have a good ice auger with bad handling. Ice augers that don't offer good grip and handling are very dangerous and can potentially cause an accident. So, make sure the one you are getting offers a strong grip, so it isn't hard to control, and you can drill the perfect hole through the ice bed.
Final Words
So, there you have it, folks! With all the information we've provided about electric ice augers and augers in general, you're probably an expert at this point. Maybe that was an exaggeration, but we're sure you're well-informed about them and know how to buy the best electric ice auger now.
Be sure to check out all the products listed above and buy yourself the best one!