This page may contain affiliate links. As an Amazon Associate, we earn from qualifying purchases, at no additional cost to you.
Your fishing days will finally start to look up when you have an awesome pond boat. These are our favorite types of boats because they double up as recreational crafts. We might not be able to afford a yacht, but we can surely sail out on a pond boat in style and do some fishing.
Now, you might prefer inflatable boats over pontoons for fishing and kayaking. But if you want to step out from serious watercraft, consider a float tube for your fun getaway. Only the best pond boat will give you the experience of a lifetime, and help you catch all the basses and carp you like.
Without further ado, let's look at a few boats that are worth a shot!
Our Top Pick for the Best Pond Boat
Bass Raider 10E from Pelican is a quality pond boat in all aspects. For example, it's a two-person fishing boat with a generous 600lbs weight capacity.
Both seats can be rotated 360 degrees for better angling. The boat is made of a multi-layered material with durable air chambers for improved buoyancy.
Bass Raider comes with a pre-wired motor housing and a 12C electrical outlet for batteries. It has a fish ruler and several roomy pockets for storing your fishing gear. Overall, this boat is easy to row, and it comes with many fisherman-friendly specs.
---
7 Best Pond Boat Reviews
Of all the ponds and riverboats we researched so far, the following seven made the cut. Keep reading to find out all about them!
From comfy seats to three oar-lock positions, it makes the ultimate fish boat for cruising on ponds, rivers, and canals.
First, it's a lot more spacious than an average motorboat or a speedboat. It's 108 inches long- the perfect size for a beefy fishing craft. We also liked the fact that it carries 400 lbs of weight. If you have many things to pack for the trip, you're going to find its 10 roomy mesh pockets quite helpful.
Other than that, there are twelve zippered pockets for storing important items and accessories. You're going to like this class 1 boat for a lot of reasons. It's the easiest to dock and drive. So, if you're new to boating, you can pick up the skills very easily.
This boat rides pretty high, so you can have a better vantage point from your seat. Get a heavy-duty trolling motor to stay ahead of your friends. The motor mounts on either side.
Rowing and paddling are pretty much the same as they are on a kayak. The anchor system is spot-on. We are a big fan of its fishing rod holder. It allows you to mount the fishing rod in six different positions!
Moving on, the Colorado Pontoon Boat is all about safety. It features a sturdy PVC bottom and a robust nylon top. Since its tubular frame is made of powder-coated steel, you can comfortably take the boat to rough waters.
You'll see many experienced users take this reliable boat to the bays. Overall, we think this is one of the best pond fishing boats because it's super safe even on lakes, rivers, and even a couple of miles from the shore. You also get two 7-foot aluminum oars, plenty of rear storage, and a comfortable footrest.
| Pros | Cons |
| --- | --- |
| ✅ 12 zippered pockets, 10 mesh pockets, and 2 drink holders | ❌ Average stitching quality. So it is recommended to restitch after a good use. |
| ✅ Comes with two 7-foot aluminum oars and fishing rod holders | |
| ✅ 400lbs weight capacity | |
| ✅ Easy to row and paddle | |
---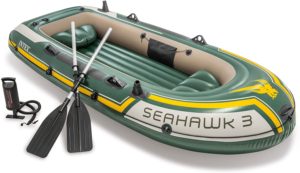 The Intex Seahawk is easy to row and gives you a decent amount of speed. You'll find this raft way better than a typical hard rowboat.
This Seahawk is neither going to tip over nor nosedive in plain water. It makes your boating experience a lot more enjoyable because you have fewer things to worry about. Compared to a kayak or pontoon boat, the Seahawk is super lightweight and much faster on a pond or lake.
The two aluminum oars are of great quality. With the wind on your side, you can cross great distances and give the trolling motor some rest. Other than rowing on the pond, you can easily sail out to the ocean on a clear day. At only 31 lbs, this inflatable raft is two times lighter than a pontoon boat.
Nevertheless, you can bring along 3 friends on the Seahawk. It's not going to wobble or push deeper into the water. The easy-floating feature is the coolest thing about all inflatable rafts by Intex. As for their latest Seahawk, you get four rotational oar locks for the easiest rowing!
You can install a floorboard for standing on the boat. And if you're a swimmer, you'll love its grab lines for boarding back on the boat from the water. There's also a grab handle on the bow for dragging it into the lake.
Lastly, you get a complementary pump with your Intex Seahawk. You can inflate the boat in a short period with the help of a pump. This is the best boat for a small pond.
| Pros | Cons |
| --- | --- |
| ✅ Sturdy, puncture-resistant vinyl construction | ❌ No back support on the seats, so long sailing can be tedious |
| ✅ Comes with grab lines on all four sides for hassle-free boarding | |
| ✅ Compatible with any 1.5HP trolling motor | |
| ✅ Inflatable cushions for comfortable seating | |
| ✅ Features 4 oar holders, 4 oar locks, and 2 fishing rod holders | |
---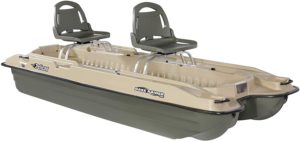 While pontoon boats are great for fishing and cruising the lake alone, a two-person fishing boat is twice the fun. Pelican has an incredible line of boats. But we found the Bass Raider to be the worthiest.
To begin with, it has a waterproof battery compartment with a 12C electrical outlet. It also includes a built-in motor mount that comes pre-wired for your convenience. What's more, you can also install a Sonar for catching fish more effectively.
However, the coolest part of the Bass Raider is its durable RAM-X material. It is an exclusive Pelican production. Its multi-layered design helps the boat power through heavy wind and rain.
This is the best pond fishing boat you can take out for adventuresome fishing trips. We can't complain about its 600lbs weight capacity. It's more than enough for two people and all of their baggage.
That's not all. Its two comfortable seats actually rotate fully 360 degrees. So, the two of you can have a little chit-chat. Besides, the rotating seats help you make quick movements when you're reeling in a big fish.
These sturdy seats can lock in position and fold back down. We liked the same feature on the Colorado pontoon boat.
All things considered; Bass Raider is hands down the best pond fishing boat. It comes with two fishing rod holders and multiple pouches for an easy storage solution. We found its stainless-steel tow eye robust enough for securing the tow lines. You can use it for fastening the winch hook on the trailer.
Additionally, the boat has handles for carrying. The drain plugs help you get rid of water from inside the boat.
| Pros | Cons |
| --- | --- |
| ✅ Two foldable, 360° swivel seats for comfortable fishing | ❌ Not suitable for recreational purposes, so for only serious Fishermans |
| ✅ Made of durable, multi-layered RAM-X for extra durability | |
| ✅ Maximum 600lbs weight capacity | |
| ✅ Comes with a pre-wired motor mount and a stainless-steel tow eye | |
---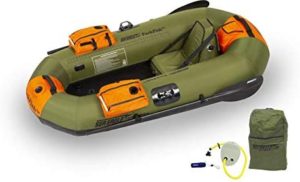 Inflatable crafts are no-nonsense riverboats, and they are the easiest to maintain. This is why we wanted to have a look at the trendy Sea Eagle. Their PF7K PackFish is a popular inflatable boat with roomy seating, high-quality bladder, and molded oar locks.
Fishermen who regularly cruise the ponds, lakes, or rivers find PackFish to be the best small pond boat for fishing. It has molded plastic oar locks that securely hold the two oars in place. You don't have to worry about them dropping into the water.
When it's your turn for rowing the boat, you can keep your fishing rod in the rod holder. But hunting down a big fish requires something special. Apart from the built-in fishing rod holder, there are loop straps and a side hook for keeping the rod in position.
If you're anything like us, forgetting about the fish ruler can happen on so many occasions! Luckily enough, the PackFish comes with not one but two fish rulers.
Now, if you hooked a giant fish, you can use the 4 tracking strips in more ways than one. They come in handy when you're reeling in a supersized catfish into the boat, and you don't want the wind to bother you.
Moving on, you have nothing to worry about while rowing by rocks and oyster beds. The materials are of the highest quality. So, puncturing the bottom layer is out of the question. It has awesome runners that slide over rocks underneath shallow water. The hull strength is pretty great, considering it's an inflatable boat.
Besides, the fact that it's inflatable allows you to stow the boat on top of your car. If you have to hike for a while before reaching the lake, you'll be happy to know that a deflated PackFish can easily fit inside your backpack!
| Pros | Cons |
| --- | --- |
| ✅ Molded plastic oarlocks for easy rowing | ❌ Doesn't come with a motor mount, so it discards lots of possibilities |
| ✅ Heavy-duty welded bladder and great hull strength | |
| ✅ Takes less than five minutes for a quick assembly | |
| ✅ Includes 2 fish rulers and 4 tracking strips | |
---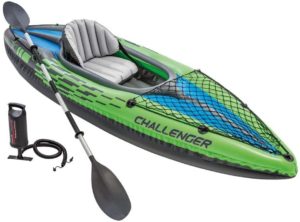 The Intex Challenger is nothing like your traditional kayaks with a wooden deck. After seeing the Intex Seahawk, we were pretty excited to test out their brand-new Challenger. It's a one-person kayak with the latest technologies.
First of all, it's a 274-centimeter-long kayak. It's only 76 centimeters wide, so you shouldn't have any problem turning it in. Compared to other pond boats, it shows off an I-beam floor. The whole kayak is made of rugged vinyl. So, if you have second thoughts about its durability, you're making a big mistake.
With two separate air chambers, Intex Challenger is officially the most durable kayak you can get for under a hundred dollars. Not to mention, we liked how Intex packs a handy repair patch with both the Seahawk and the Challenger.
Speaking of durability, the Boston valves keep the kayak perfectly air-tight to prevent sagginess and drag.
Besides, you get a hand pump for inflating the kayak. It's fairly easy and doesn't take too much of your time. A nice and sturdy storage case is the cherry on top. Its 85-inch aluminum oar, coupled with your raft-rowing techniques, can drive the kayak at great speeds.
Although the kayak looks compact from the outside, it has a roomy cockpit that allows you to sit in a comfortable position. The floor bed is made of I-beams so that you can easily balance yourself on your feet.
You're going to love the Challenger for its eye-catching aesthetics, if not for its user-friendly features. The green stands out beautifully against the black-tinted contours. Besides, it's one of those rare kayaks that actually come with a padded backrest.
| Pros | Cons |
| --- | --- |
| ✅ A single padded seat with a firm back support | ❌ The 220lbs weight limit can be problematic and tight for some users |
| ✅ Heavy-duty vinyl construction with I-beams as the floor bed | |
| ✅ Two separate air chambers and a skeg protect the kayak from undercut rocks | |
| ✅ Boston valves make inflating and deflating the boat much easier | |
---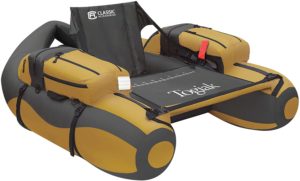 This is yet another top-notch boat by Classic Accessories. It might not have the killer specs like the Colorado pontoon boat, but it packs a lot of comfort for cruising happily in a calm pond.
To start, this float tube looks fantastic, has a well-supported seat, and comes with comfy armrests on both sides. At this point, we are already sold on this unique pond boat. Its hydrodynamic hull is something we haven't seen in a long while.
Compared to a classic U-boat, your arms won't be dangling from the sides. And you have the armrests to thank for that!
Honestly, this boat is all about comfort. Its high stadium seat had the coolest back support. And we shuffled through plenty of riverboats to come up with this gem. The armrests double up as waterproof storage space. It's an innovative approach to packing things in your boat.
The armrests feature zippered compartments, mesh pouches, and gear pockets. We were more than happy to find reel pockets there, as they're going to help with fishing. And for a riverboat that literally looks like a chair, it has more weight capacity than many 'normal boats' out there.
For example, it easily keeps 300 lbs of load afloat- exceeding the otherwise remarkable Intex Challenger by a hundred lbs. You can take it out on your fishing trips and fish like a king. The fact that it's so buoyant makes anyone feel a lot safer on water. Besides, it's a stable float tube with ample storage.
It has a printed fish ruler on the floor and a fishing rod holder on one side. For the price, we think this float tube by Classic Accessories packed pretty much everything you need for fishing in a pond.
| Pros | Cons |
| --- | --- |
| ✅ Plenty of zippered and mesh pockets for storage | ❌ Doesn't come with packing straps |
| ✅ Comes with two comfortable armrests | |
| ✅ You can adjust the backrest according to your comfort | |
| ✅ A hydrodynamic hull shape for more stability on the water | |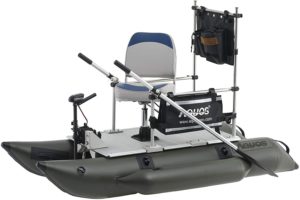 If not having a bow deck on pontoon boats is your number one complaint, then you'll adore the Fishme's broad aluminum floorboard. The boat comes with a robust trolling motor. You can take it out on freshwater and saltwater just the same.
Fishme flaunts a patented air chamber design. Its four air chambers prevent the boat from getting lopsided in heavy rain and river currents. The 350lbs weight capacity isn't extraordinary, but it doesn't disappoint. Honestly, the roomy floorboard is the key takeaway of the 2021 edition of Fishme.
You can put a heavy-duty motor on your pontoon to make it go faster. But you can't make it any more comfortable than it is. Well, that's what's different about this latest AQUOS. For example, it has a stainless-steel grab bar and a swivel seat. You can adjust the seat height from 9.6″ to 13″.
And when you're reeling in 12-inch crappie, you can stand firmly on the floor bed for more control. This riverboat keeps you covered from all sides. And it hit a home run with its latest addition of a high-quality trolling motor. In fact, it's the only pontoon boat on our list that comes with a motor!
Moving on, you'll see that Fishme is from the Backpack Series by AQUOS. This means you can pack the whole boat in your backpack and travel to your destination on foot.
Overall, its large capacity and powerful 12V trolling motor make it an all-in-one riverboat. You can call the Fishme the best boat for a small pond, but it's much more than that. It's one of those rare, high-quality pontoons that you can take out on the pond on a bright day.
| Pros | Cons |
| --- | --- |
| ✅ Excellent stability in turbulent water | ❌ Expensive. If you are only looking for pond fishing, then spending this much on a boat will not be a good decision. This is what we think |
| ✅ Comes with a 12V 20lbs bow-mount Haswing trolling motor | |
| ✅ Includes a 27.45″ ×47″ aluminum floorboard as an angling platform | |
| ✅ The EVA anti-skid pad prevents fall hazards | |
| ✅ 350lbs storage capacity | |
---
Things to Consider Before Buying
Before you buy a boat, you have to consider where you'll be rowing it. Now, it's not always about whether you're going to row the boat in a pond or take it out to the rivers.
Its hull strength, type, storage, fisherman-friendly features, and stability in rough waters should be your top priorities. If the boat comes with a comfy seat and a roomy floorboard, you got yourself a keeper!
Boat Type
Pond boats are now available in a wide variety of sizes and options. There are budget-friendly pontoons and dinghies, vinyl float tubes, plastic kayaks, and many more. However, if fishing in the river is what you're going for, we can narrow them down to the following categories-
• Pontoon Boat
You're not going to find your inflatable boat at the bottom of the river. But if you don't want to risk it, you should definitely consider switching to a pontoon boat. These boats ride much higher than an average boat- giving you better visibility of what's ahead.
In fact, pontoon boats are becoming quite popular for their heavy-duty bladders, pulleys, and cleats. The anchor system is a reliable one, and you shouldn't have any difficulty launching and turning the boat.
If you're going to fish mainly in the river, lake, and inlay, you need a boat with two 9-foot pontoons. An upgrade will look something like the AQUOS Fishme.
Thanks to 2 smaller pontoons on each side, it has a comparatively broader surface than a normal pontoon boat. It keeps Fishme from wobbling dangerously on turbulent waters.
• Kayak
A good old-fashioned kayak can be your beginner fishing boat. It features a covered deck and a cockpit for better maneuverability. This is why kayaks are not only faster but also more stable than canoes.
If you ask us, Intex Challenger is a great kayak if you don't mind its 220lbs weight limit. After all, it's a one-person boat and it floats brilliantly on a river. You can pack an inflatable kayak in your backpack, and pump it back to shape within 5 minutes.
• Float Tube
We took inexpensive float tubes to be recreational watercraft. But that was before we came across the Togiak float tube by Classic Accessories. It has twice the weight capacity compared to a kayak.
Honestly, both a kayak and a float tube are perfectly inflatable. They have improved tracking and stability. But we have to give it to float tubes for their amazing buoyancy in river water.
Material
Abrasion-resistant PVC is a durable material for pontoon boats. We also look for cold and heat-resistant bladders, other than a powder-coated steel frame.
You don't have to worry about a hookset tearing up a large hole in the bladder. A heavy-duty nylon top makes any river boat beat the elements and survive rough wear and tear.
Finally, bronze is by far the most reliable material for oarlocks. And if you're wondering what material your oars need to be, we are going to say aluminum.
User-Friendly Features
Let's face it, kayaks and some old-fashioned pontoons barely let you stand comfortably. You're not going to find a reboarding ladder in that price range either.
A bow deck on your pontoon boat can make those long hours of fishing much more comfortable.
But here's a trick- you can throw a floorboard in your inflatable kayak and stand on top of it. A floorboard makes angling easier. A fish ruler, multiple zippered pockets, and mesh compartments go a long way!
Frequently Asked Questions
1. What is a great inflatable boat for camping?
You need an inflatable boat that packs easily in a backpack. We recommend the PF7K PackFish by Sea Eagle. It has molded oar-locks, a built-in fishing rod holder, and a nicely welded bladder. The weight limit is generous for one person and it takes 5 minutes to inflate it.
2. How do I protect an inflatable boat from punctures and scratches?
You can install a sturdy floorboard on top of the boat. It will keep the inflatable craft safe from fingernail scratches, fishing hooks, and so on. Be careful not to row over oyster beds. Avoid rocky waterways to extend the life of your boat.
3. Why does the pontoon tube size matter?
Pontoon tubes with large diameters can help the boat go a lot faster. Big pontoons also make the craft more stable in difficult waters. Look for pontoons with 4 air chambers to stay on the safe side.
4. What type of trolling motor should I get for my pontoon boat?
A 12V 1.5HP trolling motor is suitable for most pontoon boats. The higher the motor capacity, the faster your boat can power through a river. Pontoons and inflatable boats hardly achieve the same speed as a motorboat.
5. Which affordable pontoon boat has the most storage for fishing?
The Colorado pontoon boat by Classic Accessories offers a generous storage capacity of 400 lbs. It works for most fishermen who are off to a two-day fishing trip. For example, it features 12 zippered pockets, 10 mesh pockets, and 2 drink holders.
Final Words
A high-quality pond boat can take your fishing experience to a whole new level. These boats bravely cruise the turbulent waters, turn sharply, and roll over undercut rocks without a scratch. We hope that you found the best pond boat from our list. Happy fishing!