This page may contain affiliate links. As an Amazon Associate, we earn from qualifying purchases, at no additional cost to you.
Fishing looks like a simple enough hobby. You cast your rod into the water and wait for the fish to come to you. And in the meantime, you expect to enjoy some quiet time away from the hustle and bustle of the city.
But fishing requires a lot of patience and energy and a combination of skill and luck. And some fishes, such as crappies, are fickler than others and need extra attention. They are notoriously infamous for having a very specific preference for bait, depending on their mood.
So, here we have the 8 best crappie baits you will ever find. We have done some extensive research to choose these infallible lures that no crappie will ever be able to resist.
Additional Items for Crappie Fishing
Crappie fishing is fun if you got the right gear. There are some items that facilitate crappie fishing besides the mentioned baits.
This four-sided LED fishing appliance produces a bright light with 2000 lumens that attract prawns, fishes, squids, and other species near you and help you out. The lights are completely waterproof, which will not fog up as you work. You can expect increased efficiency and a reduction in the catching time per fish.
Although most artificial baits are scented to allure fishes, you can stick these super-strong super gels to your baits for a more guaranteed harvest.
They contain about everything a panfish likes feeding on, such as minnows, shrimps, crawfish, etc. And you can use them on about anything.
These luminous crappie nibbles will bring forth fishes from miles away and result in more bites per hour than you normally would have expected. It is made up of a combination of stimulating vibrant shades and an extra-strength smell.
Since you only have to use a little at a time, this is a really good investment, and you can expect to use these for a long time.
8 Best Crappie Bait Reviews
There are a lot of factors that must be accounted for when choosing the right lure for crappies: size, shape, tail, material, etc. Our 8 top choices are handpicked for having the best of these attributes, so without further ado, let us get started.
The Berkley Power Bait has only been around for a little more than a couple of years, but it has easily made its way into the hearts of almost every fishing expert. These craw baits smell and feel like real worms, easily alluring fishes into their trap.
They have a surface area wider than most soft baits, which hold more of the flavor and scent. Over time, you will see them losing this scent and becoming less effective, but proper storage in good quality bags or even Ziplocks should increase their longevity.
These baits are available in a variety of colors and have an impeccable record for catching fish. Just try different colors if you think the ones you are using are not working. Each lake has a different shade preference, so you might want to stock on different colors a little over time.
With these power baits, you will have more than ample time to set hooks and increase your efficiency. If you have zero patience and cannot sit still for long or have a young angler keen on catching a few small fish, having this bait in your bug bag would be an excellent choice.
| Pros | Cons |
| --- | --- |
| ✅ Easier and almost 4x faster to rig so you can catch more fish. | ❌ Expensive than other baits. |
| ✅ Smells and feels like live bait with none of the hassle of storing shriveled dead worms. | |
| ✅ Durable and last 2-3x times. | |
| ✅ Works great for attracting and trapping small fishes. | |
---
These QualyQualy crappie lures are extremely lifelike, deceiving not only aquatic animals but even humans from a little distance away. They are dead ringers for life baits and can catch crappies faster than you could have possibly imagined.
Also, these baits are made of high-quality plastic, and their exteriors have intricately detailed fish scale patterns, fish gills plates, and ultra-realistic 3D eyes. Its design also incorporates a foiled belly that flashes a light to tempt fishes and hook them right in.
The split tail design mimics the swimming action of a baitfish and wiggles both in and out of water. You should see them jumping and wobbling as soon as they encounter it.
Also, the setup is quite hassle-free, and you can attach the lures with weightless hooks, and jig heads besides rigging it up as drop shots, Carolina, Texas, etc.
Their length is almost 3 inches, which is ideal for crappies alongside bass, trout, panfish, rockfish, and other small fishes. There are 6 pieces per packaging, and they are available in different colors to entice different species.
| Pros | Cons |
| --- | --- |
| ✅ Highly detailed fish scale pattern to blend in with the forage and not spook the fishes. | ❌ The tail is susceptible to nibbles and is not very durable. |
| ✅ Split-tail mimics wounded baitfish and allures targets. | |
| ✅ Ideal to be used with jig heads, small-weighted hooks, or for rigging. | |
| ✅ Suitable to be used in cold water as well. | |
---
Wild.life released their baits only half a decade ago, but it is still a very popular choice amongst most fishermen. They are made with soft plastic to resemble the shape and look of shrimps. These even feel equally real and have the same spongey density when you take them in your hand.
The baits target Bream, Bass, Flatheads, and Whiting Snapper, along with other saltwater species. But it is most known for enticing even the pickiest crappies, regardless of size. They are tiny, about 1.77 inches, and have a detailed scaled exterior that is exceptional at crappie fishing.
Unlike other baits, these only come in a single color to mimic the real-life shrimp look, which may seem like a neon green but glows once you put them underwater.
You can insert the hook into the body of the cavity and have the silicone shrimp sit well on them. However, the hook is not included in the packaging and needs to be purchased extra.
| Pros | Cons |
| --- | --- |
| ✅ Looks and feels like real-life shrimp. | ❌ Hooks are not included and need to be purchased extra. |
| ✅ Luminous green color to attract the fish. | |
| ✅ Targets most saltwater species. | |
| ✅ Protected from most wear and tear. | |
---
During spring, crappies tend to cluster together, and you can send a jig right into the middle and always expect to get a bite. YZD's silverside minnow is one of the best baits for crappie and can be used for different ways of fishing.
The jig can be used in both salt and fresh water and is easy to control. They are about 1.5 inches long and are lightweight, which makes them ideal for catching small fishes such as sunfish.
However, this is also why we do not recommend them to be used for ice fishing by amateur anglers, as the light mass of the lure can make it hard for them to break the surface and let it sink.
But most experts can adjust the depth rod angle and reeling speed to either make these baits dance on the water surface or plunge deeper and settle on the bottom.
You can experiment with the colors to find one that gets the most bites, and very soon, you will be catching fish faster than you can pull them in. There are 12 pieces included per packaging, so you have a lot of backups in case you lose one or two.
| Pros | Cons |
| --- | --- |
| ✅ Small and lightweight to catch small fish. But, creative people can take it further. | ❌ Paint peels off quickly, so it becomes less effective. |
| ✅ Includes 12 pieces per packaging for a fair price. | |
| ✅ Hooks are sharp and angle for a stronghold. | |
| ✅ Jigs are durable and attract species to bite fast. | |
---
Dr. Fish's grub baits are a recent release and are only a year old, but we had to include them in our list. They have already gained a stellar reputation for catching various fishes, even enticing the notoriously fickle crappies.
These lures come in six different colors: black, brown, chartreuse, golden, green, silver, and white. But silver is one of the most popular choices as it matches the forage of saltwater and freshwater and triggers enhanced action.
Although, it is to be noted that while it is scented to attract aquatic species, the smell is sometimes a little off-putting for a few freshwater fishes.
They have a natural live bait appearance with a rounded head and J-shaped tail. The tail has a triple-tip vibrating mechanism which makes them unique and different from other artificial lures. Their small size but good quality make them really good fish magnets.
These lures are great for drop shots and weightless and weedless rigs. They are made with high-quality silicone for added durability and increased resistance to fish bites. For a low price, you will get 20 pieces of these extremely realistic soft baits that you can use for many fishing expeditions.
| Pros | Cons |
| --- | --- |
| ✅ Triple-tip vibrating tail to catch the attention of all hungry fishes. | ❌ The scent, while sometimes alluring, can also put off a few freshwater species. |
| ✅ Good sized and even the easiest rig guarantees a catch. | |
| ✅ Ideal to be used in most fishing conditions that need enhanced action. | |
| ✅ Inexpensive and contains a high volume of units per packaging. | |
---
Thkfish's spinnerbaits are one of the newest additions to spinner lures that are quickly gaining fame for catching freshwater game fish. It comes as a 1/7 oz and 1/5 oz lure, which is perfect for targeting crappies.
The in-line body creates a one-of-a-kind spinning action, created by the combination of various degrees of flash and vibration of the fishing blade. As soon as you cast the rod into the water, the folded clevises trigger the blade to spin freely.
With this bait, you will have no trouble using them in both shallow and deep-water levels and go home with buckets of game.
The spinner bait is fitted with a pre-sharpened and durable hook that easily pierces into the fish. However, the key feature is the soft, attractive tail covering the blade, and it has a high-performing vibration and a natural pulsating action.
They come in four different colors, which are very flashy and vibrant. Onlooking fishes are unable to resist biting into them to satisfy their curiosity and thus become prey.
| Pros | Cons |
| --- | --- |
| ✅ Vibrant and flashy colors trigger curiosity and encourage biting. | ❌ Contains only 4 pieces which makes the price slightly expensive. |
| ✅ Mimics lifelike swimming action due to the folded clevises. | |
| ✅ Inline body design for smooth performance and easy spinning. | |
| ✅ Sharp and durable hook that quickly guarantees catches. | |
---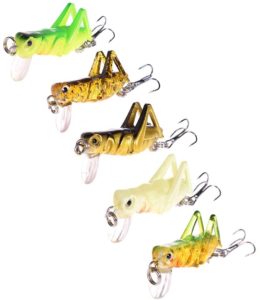 Besides frogs and worms, crickets also work great as baits, and the NUOMI cricket lures are an excellent replacement for live baits. At 1.57 inches in length, they are ideal for targeting small crappies and other small and large game fishes too.
Adding these lures to your tackle box would be a smart choice in the long run as they are one of the best baits to catch crappie.
These baits have been built with ABS and high-carbon steel for enhanced product longevity. Even the hardest nibbles would not have any detrimental effects on the outlook. It is also super easy to cast and retrieve with these crankbaits and is perfect to be used by little anglers accompanying you.
The crickets and hooks are well made and detailed for LRF fishing in most fishing conditions, but especially salt and fresh water. And if you are worried about spooking the fish, you can rest easy as the small size hardly calls for a noticed presence.
Now the crankbaits have great action. Once you throw them in, it starts to gradually sink in, and you should expect it to remain down without diving to the bottom and getting stuck.
| Pros | Cons |
| --- | --- |
| ✅ Little to no wobbling when cranking, which makes it easier to cast. | ❌ Made with plastic, and gives off a cheap look. |
| ✅ Easily allows the hooks to get tangled in the line. | |
| ✅ Inexpensive and really good quality. | |
| ✅ Sturdy and durable for long-term use. | |
---
The Jiatai fishing lures are just as good as any premium brand crappie jigs but cost half the price. They are available in a variety of weights and colors, and depending on your preference; you could use these baits in different fishing conditions and tackle every fishing trip.
It has a realistic 3D eye design to quickly grab the fish's attention and entrap them. This feature, along with the willow leaf blade, adds to its appeal as bait. The head is made with lead and is coated with vibrant colors and powder-coated paint finish to match the underwater environment.
You can easily cast and retrieve these baits for long periods of time. It even has a hook with a needlepoint that penetrates fast quickly. While the hook is solid, it is a little small and is only suitable for smaller fishes.
If you prefer a more attention-grabbing bait, the Jiatai fishing jig heads will quickly become one of your favorites.
They come in a set of 25, and each color comes in 5 units. So, you can cut one or two loose but still have more as a backup. It comes with a bait keeper, which you can use to store all your soft plastics.
| Pros | Cons |
| --- | --- |
| ✅ Solid hook for easy penetration. | ❌ The hook is small, so good for small fish only. |
| ✅ A 3D eye for added appeal and realistic outcome. Fishes are attracted more. | |
| ✅ Simple to cast and retrieve. | |
| ✅ Available in different colors and weights. | |
---
Before You Buy What to Look For
Even with this list, you will still have a hard time choosing the best bait for crappie fishing or the one that would be right for you. Luckily for you, if you take the following factors into consideration, your job will be about 90% easier.
Color
Of all the factors, the color of your lure is the most important. Crappies are extremely picky, and although there are no definite colors they actively avoid, a color that works in one type of water body may not work the same in another body.
You need to make sure that the color doesn't scare off the fish. Opaque, solid colors are better suited against brackish waters. It makes them pop more against the background and piques the fish's interest.
However, for fresh and clear water, a translucent bait would prove to be a better choice. You can also opt for lighter shades as well.
Size
Most crappie lures in the market come in a standard size that is off about a centimeter or two on one side. However, some baits tend to be slightly bigger to increase their versatility and be used for wider ranges of species.
If you specifically want to catch crappies or other small fishes, choosing a smaller bait would provide the best results. And if you do not have a particular preference for fish and are open to catching different kinds of fish, choose a larger-sized lure.
The Number of Units Included
Do you frequently fish, or is it something you do once in a blue moon? This is another factor you should consider since it would determine how many crappie baits you are going to need.
If you like to take the boat out every now and then, select a packaging that would contain multiple units inside. That way, you can replace them when they have started to lose effectiveness or pick new ones out if you must cut one or two loose.
Usually, most packages contain about 3-4 pieces, while some can even carry up to 20-25 pieces.
Frequently Asked Questions
1. What is the best bait to catch crappie?
There isn't one, at least, not specifically. A crappie bait that might have worked wonders for you one day might fail to catch even a single fish. The target fish's preference changes every other day. Also, there is the fact that different fishes of different water bodies have their specific likings.  
2. When is the best season for catching crappies?
You can find crappies most time of the year. However, the chances of getting a good amount of game crappie fish get higher during spring as they tend to cluster in large schools. 
3. On what depth would I find the most crappies?
Generally, a depth of 6 to 15 feet below the water surface is ideal for catching all kinds of sunfish irrespective of size. 
4. Are there any alternatives to crappie nibbles?
You could try using slab sauce instead or wax worms if you prefer. Waxworms are apparently known to make the male crappie go crazy while also allowing using to jig through the cover. 
5. What baits should I use when the fishes are lethargic?
Of all the types of bait, minnows are highly popular as crappie bait. While they can be used at any time of the year, they work great if you need to get more bites, especially during winter and summer. 
You could generally use bigger minnows but opt for smaller ones during summer. That is when crappies are in their pre-spawn stage.
6. How to tip a jig with a minnow?
A 1/16 to a 1/8-ounce jig works best to catch crappies with a minnow. You should penetrate the minnow on its bottom lip and bring it out from the top lip. This method is basically foolproof despite how unnatural and strange it looks. 
7. Is there a peak time for crappie fishing?
One of the most optimal times for crappie fishing is usually around midnight, particularly from 12 am to 2 am. That is the prime feeding time for crappies.
Final Words
Crappie fishing requires a lot of patience, and choosing the right kind of bait makes you repeatedly question if it is worth it. However, once you catch a crappie, you will completely forget all the trouble you had to go through and will feel nothing but accomplished.
With the help of our little tips and best crappie bait recommendations, we hope you finally get to catch a crappie or two and understand what we are talking about.