Best Fishing Rods For Catfish
This page may contain affiliate links. As an Amazon Associate, we earn from qualifying purchases, at no additional cost to you.
Catfish are simple to catch. You don't have to worry about the hook size and line size. But using the right tool is crucial. When choosing the best fishing rod for catfish, options are bottomless. But how to choose a reliable one?
A fishing rod can last around 20 to 50 years. But not all perform consistently throughout their lifespan. Plus, some lose their effectiveness within a short period. The article will guide you to find a reliable fishing rod for catfish from top brands. Let's dive in without further ado!
Our Top Pick for the Best Fishing Rod for Catfish
Our top pick is Catfish Pro Tournament Series Casting Fishing Rod. Compared to other options, it has a longer length to get more leverage and faster line movement.
Plus, it is made of composite materials, consisting S-Glass, E-Glass, and carbon graphite. The fishing rod has excellent lifting and fighting power to tackle large-sized species.
Whether you want to target Blue, Flathead, or Big Channel catfish, the unit is perfect. Its heavy-moderate action can take a wide range of bulky fish efficiently.
---
5 Best Catfish Fishing Rod Reviews
Let's take a look at our complete list of the top 5 catfish fishing rods. We've researched hundreds of rods and read thousands of reviews before finalizing our list.
Berkley needs no introduction, at least to regular anglers. This casting rod is available in 6-inch, 6.6-inch, and 7-inch. This mid-range action rod is perfect for dampening and softening the often-violent shock of catfish.
Its line rating is 12-20LB. You can use this casting rod with a braid from 15-30lb effortlessly. The average weight of a regular catfish is around 3 to 5 pounds. But blue catfish can be as giant as 50+ pounds. You can use this Berkley fishing rod for species up to 30 pounds.
In some cases, the fishing tool may come handy in handling heavier fish. It is associated with some risks of breaking the unit. However, it has a shock-absorbing tip to minimize the tension of the rod. The casting rod features stainless steel guides. Bending the guide back is effortless.
| Pros | Cons |
| --- | --- |
| ✅ Titanium oxide inserts make the fishing rod rigid and give a sensitive feel | ❌ Some found it a little bit stiff |
| ✅ Textured rubber grip to offer added comfort | |
| ✅ Perfect for using frogs and topwater | |
| ✅ Easy to apply more pressure on the bass | |
---
Are you looking for a versatile fishing rod? You may prefer a composite rod made from a combination of graphite and fiberglass. Plus, the casting rod offers increased power and rapid action. It also has decent thermal and electrical conductivity.

Catching various types of fish with this strong and durable fishing rod is hassle-free. But, it is perfect for small to medium-sized streams. In addition, the fishing tool has one-piece stainless steel guides to cast better and further while evenly distributing the stress and energy.
Worry about annoying corrosion and rust? This product from Ugly Stik has corrosion resistance properties. However, cleaning the rod after everyday use is still a solid rule of thumb. Cleaning the reel, guides, and handle is essential too.
| Pros | Cons |
| --- | --- |
| ✅ Highly responsive tip even for the lightest strike | ❌ Harder or thicker material would make the rod better |
| ✅ Versatile to use for various species of fishes | |
| ✅ A rubberized shrink-wrapped grip to create a weather-tight seal | |
| ✅ Seven years of warranty to ensure more reliability | |
---
Why buy a spinning reel separately when you can get it with a fishing rod? It is a perfect combo at an affordable price. The unit has graphite blank that offers better reach and accuracy from a considerable distance.
You will appreciate its impressive thermal shock resistance too. Hence, this strong and malleable fishing rod will struggle even in saltwater. Plus, the fishing tool has O-ring inserts to minimize friction and retain the integrity of the rod.
Moreover, the unit has an EVA handle made from highly durable and denser material. They are highly resistant to wear and tear. Its Centron Spinning Reel has a gear ratio of 5.2:1 or 4.5:1. The reel has a triple disc felt drag system to handle considerable drag pressure.
| Pros | Cons |
| --- | --- |
| ✅ A perfect fishing rod and spinning reel | ❌ The grip could be a little longer |
| ✅ A Contoured EVA handle offers good firmness and comfort | ❌ Some complained it snapped in half while using |
| ✅ Incredibly smooth reel action with higher drag pressure | |
| ✅ Easy to catch catfish, salmon, and other large fishes | |
---
Are you looking for a lightweight, high-quality fish with ample backbone? This Catfish Pro seems to be a perfect pick. The unit is 7'6 in length, offering you more leverage than a shorter fishing rod. Moving more lines faster is easygoing with this beast.
Besides, the casting fishing rod allows you easily jig through its soft, forgiving action. Turning catfish and other species headed toward structure will be hassle-free as you will receive enough pulling power. Love to catch fish in dark conditions? It has a glowing tip!
Moreover, this Catfish Pro is equipped with S-Glass, E-Glass, and carbon graphite blank. You will surely love its fish-fighting power due to its rigid construction and lifting capacity. Not to mention its superior responsiveness to tackle any size catfish that comes your way.
| Pros | Cons |
| --- | --- |
| ✅ 7'6 inch long to catch to get more leverage and faster line movement | ❌ Lacks accuracy compared to shorter fishing rods |
| ✅ Excellent sensitivity and power to tackle larger fish | ❌ Not an excellent choice for tight covers like docks and brush |
| ✅ A comfortable handle with a dark tip | |
| ✅ Better control in fishing line with minimal twisting | |
---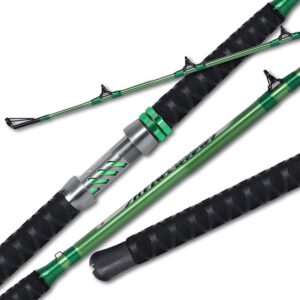 How about choosing a fishing rod that doesn't only perform impressively well but also looks great? This Fiblink fishing tool is made from a combination of carbon fiber and fiberglass. Its action is pretty fast. You won't see any bending issues under stress.
The heavy-power rod allows you to hook swiftly. You will appreciate its versatile design that transfers vibration effortlessly. Fiblink used thicker materials to handle ripping, tugging, and other challenging conditions.
Love to do lure fishing for catfish? This fishing rod is specially designed for this purpose. Tackling bulky lures or rigs from a considerable distance is simple. It has stainless steel guides to avoid rust and corrosion build-up. But friction and heat will not be reduced too much.
| Pros | Cons |
| --- | --- |
| ✅ Available in 6 to 9 inches with two color choices | ❌ Protective padding could be better to safeguard the rod |
| ✅ Perfect for all types of anglers | |
| ✅ Easy to catch big flathead and blue catfish | |
| ✅ Not prone to change the shape | |
---
How to Choose the Best Fishing Rod for Catfish
Catfish are pretty standard, and you can find them in ponds, rivers to oceans. They are easy to find and catch.
But, your fishing skill may not be enough if you choose the wrong fishing rod. Catfish will keep fighting even after being hooked.
The followings are the top crucial factors you don't want to overlook while looking for the best fishing rod for catfish.
Is Spinning or Casting Better For Catfishing Rod?
Casting is better for catfishing rods if you are a serious angler. Large species of catfish will fail to pull the eyelets off of the rod.
You can also use power fishing bass tactics to fight vigorously against bulky catfish.
However, don't forget to use a baitcasting reel with a casting rod. Some anglers think a spinning reel is okay to use with a casting fishing rod just because it fits the size.
But they don't realize it compromises their fishing performance. Plus, you will risk the actual casting distance
How Much Rod Actions You Need?
It usually depends on the catfish's size. Experienced anglers generally recommend using medium or medium-heavy action fishing rods for catfish.
Moderate action rods are enough if you only want to catch channel catfish from rivers, lakes, and ponds. They are also great for crankbaits, Chatterbaits, and spinnerbaits.
Larger species like flathead or blue catfish will need medium-heavy action fishing rods. It is also perfect for lure, bass, and rig fishing.
What Should Be the Ideal Handle Length Of A Fishing Rod?
Catfish fishing rods should be at least 6 feet long. But, experts recommend choosing between seven and eight feet.
The main advantage of having a longer fishing rod is additional leverage to tackle catfish more effortlessly, especially in deep running water.
The fish will fail to dive back into the deep water. It gives you anglers better control. You have to fight less.
What Materials Are Used in the Fishing Rod?
Fishing rods are made from materials such as E-Glass, S-Glass, Carbon Fiber, Graphite, and Composite.
Each material has some advantages and disadvantages. Pro anglers usually discourage graphite rods for catfish.
Composite materials are a better choice for catfish because you get some positive attributes from both options. However, a composite catfish rod won't be powerful and sensitive.
How Much Power Does The Fishing Rod Have?
Apart from the action of a fishing rod, you want to determine how much power it has. The more power, the bulkier fish it can handle.
The power of fishing rods ranges from ultralight to XXH-power. Generally, medium or medium-heavy can handle most species.
However, heavy power is crucial to tackling bulky species like large blues. Medium-heavy fishing rods are likely to break to catch them.
How Many Line Guides in the Fishing Rod?
The simple rule for line guides is "The more, the better." Having at least one line guide on every foot of the fishing rod is crucial.
For example, if your fishing rod is 7 feet tall, it must have at least 7 line guides (eyes). Cheap fishing roads have fewer line guides to minimize the total construction cost.
Now, you must be wondering what the benefit of having more line guides is right? Their main job is transferring the vibration and distributing the stress through the fishing rod.
Besides, they offer more precise and disruption-free casting by holding the line close to the rod and directing it to the target.
Avoid choosing any ceramic line guides, as they are pretty cheap. Due to their extreme rigidity and sensitivity, titanium oxide and chromium-based line guides are a better choice.
Which Type Of Fishing Rod Handle Is Better?
Fishing rod handles are made from various materials, such as EVA foam, rubberized cork handles, composite cork, etc.
But regular anglers prefer to use an EVA foam handle. It is comfortable to hold for hours. You don't experience any slippery issues when it becomes wet.
However, cork handles are pretty lightweight and impermeable. But, they are prone to attract dirt and molds.
How Good Is The Reel Seat?
Avoid choosing any plastic-based reel seat. They are likely to break within a short time. Plastics can't take the extra pressure of giant catfish.
Metal-based reel seats are a better choice. They have a solid construction to endure the extra pressure of bulky species.
Don't forget to consider the outer and internal diameter of the reel seat, as it must fit your hand.
You want to choose a durable and heavier reel seat that can handle the extreme force of the bulky fish.
What Type Of Angler Are You?
Some picky anglers only prefer to catch giant catfish. They are not interested in catching smaller fish. These fishermen are usually Trophy hunters as they regularly participate in competitions.
But, many anglers don't consider any special fish. They just strive to get as much catfish as possible. It can be smaller and larger species.
However, a few fishermen consider the seasonality of the catfish. Some species are only in particular seasons, while many are in the all-year round.
It is best to choose a particular fishing rod depending on your fishing habit and what type of catfish you love to explore.
Are The Rod Tips Easily Visible?
Rod tips are located at the bottom section of the fishing rod, which is usually the last component the line leaves.
Some manufacturers prefer a bright color to make it more easily visible than other parts. But the color should not be a concerning point as long as you can use the fishing rod properly.
A few come with an additional glow that allows you to see the fishing rod during low-light conditions. It is still questionable how good the shine is.
However, you can add Glow Stick or UV-A light on the rod tip to see it effortlessly in darker conditions.
How Much Are You Ready To Invest?
The average price of a fishing rod is around $40 to $50. But it can be more or less depending on the quality.
Fishing rods are usually long-term investments. Cheap options typically last for 25 to 30 trips. But premium rods may have a lifespan of 100 to 200 trips on your aggressiveness.
You should not mind spending around $70 to $80 if you want the best fishing performance. High-end fishing rods have better balance, sensitivity, and weight.
Cheap quality rods will minimize the success out on the water. You feel less confident as they don't have many features like higher-end models.
A Common Mistake People Make to Choose a Catfish Rod
Your local bait and tackle shop might be the most easygoing spot to find a fishing rod. But do you think it is the most reliable spot to get a special catfish rod?
Just because the fishing rod has the label "Catfishing Rod" doesn't mean it is ideal for catching catfish. Unfortunately, most of them are totally inappropriate for catfish.
These fishing rods usually come from various brands. They are mainly for the general purpose of catching various types of fish in different sizes.
If you are merely an angler who catches fish only a few times a year, choosing these options is okay. But, when you are a serious fisherman, claiming the best rod is your right.
Hence, choosing a particular rod for catfish requires you to consider the species, their size, and their fishing location. Your main aim should be the best one based on your fishing requirements.
How to Clean a Catfish Rod?
Cleaning fishing rods after every fishing session is crucial. You don't want to store it in that dirty conditions.
It doesn't matter how good the surface coating is. If you don't clean it, rust and corrosion will develop from saltwater on the rod surface.
Cleaning a fishing rod is pretty simple. You don't need to use a chemical-based product.
Just add an equal portion of vinegar and fresh water. Alternatively, you can use soft detergent to clean the fishing gear thoroughly. Then, wash it using fresh water.
Don't use any high-pressure sprayer to wash the catfish rod. It may affect the original physical structure of the fishing gear.
But avoid using any harsh soap. It may damage the grease. Don't forget to dry all fishing gear appropriately before storing them. Otherwise, moisture will cause corrosion issues.
How to Store Your Catfish Rod Safely?
Storage is vital to ensure a longer lifespan and function of a fishing rod.
Your wrong storing approach may cause a breakdown of the fishing gear. The following are top expert tips for storing a fishing rod safely.
Tip: 01 — Store Your Fishing Rod Vertically
Keep your fishing rod vertically because it provides proper support.
Vertical storage racks come in handy if your floor area has sufficient space.
Horizontally storing fishing rods will cause warping, bending, or even breaking if it causes overburden issues.
Tip: 02 — Use Rod Sleeves or Cases
Rod sleeves are pretty effective in protecting the fishing gear from getting nicked and abrasions. They keep each fishing rod separately.
You don't have to be concerned about twisting together all rods together, which could lead to a confused mass.
Don't forget to pick the correct size. They come in various widths and lengths. Choose a particular option depending on your fishing gear height.
Tip: 03 — Keep Your Fishing Rod Away From Heat
Cold weather might be okay for catfish rods, but extremely hot weather is not.
Never expose your fish rod to extreme heat conditions. Expert anglers recommend storing fishing rods within 44 °C.
If the temperature exceeds 44 °C, the glued parts of the fish rod will start melting. They will become loose within a short period.
Avoid keeping your fishing gear inside your car or truck during the summer. Extreme heat can damage the rod within a short time.
Tip: 04 — Use a Dry Place to Store
Remember, moisture is the enemy of the fishing rod. Storing your fishing gear in a dry place after every trip is crucial.
Keep the catfish rod away from extreme humidity or damp condition.
If you keep the gear in a damp area, it will lose its smoothness. Corrosion will develop over time.
Tip: 05 — Use Paraffin or Candle Wax to avoid friction
Fishing rods have several joint pieces. Apply Paraffin or Candle Wax to make them more secure and prevent friction.
This industrial lubricant has neutral reactivity.
It can keep a fishing rod's fresh look and consistent performance for a long time.
Tip: 06 — Make Sure the Rod Doesn't Hit On Hard Objects
Fishing rods are pretty sensitive. You should not bang them on any hard surfaces or objects.
Even tiny cuts or scratches can affect its performance. It may even damage some parts of the fishing gear.
Hence, keep your fishing rods away from rocks, boats' metal areas, and other tough objects.
Tip: 07 — Loosen the Drag before Storing
Make sure the drag system is loose before storing it. It will prevent any pulling and breaking issues.
If you have used fishing gear in saltwater, detach the fishing line. The inner area may have some moisture. Let it dry appropriately.
Conclusion
So, our top pick is Catfish Pro Tournament Series Casting Fishing Rod. Compared to other options, it has a longer length to get more leverage and faster line movement.
Plus, it is made of composite materials, consisting S-Glass, E-Glass, and carbon graphite. The fishing rod has an excellent lifting and fighting power to tackle large-sized species.
Whether you want to target Blue, Flathead, or Big Channel catfish, the unit is perfect. Its heavy-moderate action can take a wide range of bulky fish efficiently.