Best Fishing Rod and Reel Combo For Saltwater
This page may contain affiliate links. As an Amazon Associate, we earn from qualifying purchases, at no additional cost to you.
It might be seemed compelling to buy a fishing rod and reel separately. You can go for a comprehensive selection of products to pick the best one. Unfortunately, it is time-consuming. And if you are a new angler, you may dive into the confusing world to select a perfect combo.
Since you have landed in the right place, let us help you to find the best fishing rod and reel combo for saltwater. We have researched in-depth and considered experts' opinions to pick a perfect combination. Don't miss this post if you want to find your preferred combo!
Our Top Pick for the Best Fishing Rod and Reel Combo for Saltwater
All fishing rod and reel combos mentioned above are excellent choices. However, Tailored Tackle Fishing Rods Reels are a better pick as you can handle smaller and larger fish with this combo.
Fighting against mid- to bulky lures will be easygoing. It offers precise casting from a longer distance. You can drop your line strategically, even in a cluttered spot. You will get sufficient support to make lures come to life.
---
6 Best Saltwater Fishing Rod and Reel Combos Reviewed
Now, let's take a look at our complete list of saltwater rod and reel combos. We have analyzed hundreds of products and several thousand reviews before giving our verdict.
This combo is perfect whether you follow surfing, casting, or spinning fishing techniques. The unit comes with a 12 feet surf fishing rod, making it an ideal choice for beginners. It has a 10000 fishing reel size.
Worry about wrapping around reels or tangling on guides? This high-quality fishing rod has stainless steel bracket to make a noticeable difference in the outcome of your every fishing trip. Plus, the manufacturer uses a ceramic ring to minimize the heat and friction from the fishing line.
Let's talk about its spinning reel. It has a shallow spool to create wider loops with consistent and smooth flows. Compared to full-depth products, it will cause reduced drag and line. The unit features an oiled felt drag system to make the drag system more practical for a long time.
The manufacturer used stainless steel to make the shaft of this spinning reel. Hence, saltwater can't easily damage it. The entire body has PPA6 graphite materials to ensure high mechanical strength and better chemical stability.
| Pros | Cons |
| --- | --- |
| ✅ 3.9:1 Gear Ratio to use for a wide range of lures | ❌ A little more sensitive tip could be better |
| ✅ 13+1 Ball Bearings for Powerful fishing tackle for anglers | ❌ The pole quality needs improvement |
| ✅ Up to 40Lb drag system to handle bulky and oversized fish | |
| ✅ 10000 Fishing Reel Size rating to catch pretty big fish | |
| ✅ 12 feet fishing rod to tackle most fish from nearshore | |
---
Different anglers have different preferences. PENN offers a wide range of sizing options for this fishing rod and reel combo. You can choose a fishing rod from 6.6-inch to 10-inch and 2500 to 8000 reel size. They also sell medium-light to heavy-action fishing rods.
Love sport fishing? This combo from PENN is perfect for spinning fishing techniques. Enticing your favorite fish to bite will be easygoing. Besides, the fishing reel has two shielded stainless steel ball bearings, making it resistant to saltwater.
Moreover, you won't see any contamination issues on the fishing reel. Its lubrication will last for a long time. Worry about turning the spinning reel in backyards? Its anti-reverse bearing will prevent spinning in the opposite direction
Moreover, the fishing feel has an anodized aluminum spool that is more durable and strong than graphite-based spools. You will have better casting accuracy while the spool rotates continuously.
| Pros | Cons |
| --- | --- |
| ✅ Three sizes of fishing rods and four sizes of fishing reels | ❌ The fishing rod quality could be better |
| ✅ A graphite composite blank to add greater sensitivity and flexibility | ❌ No lock cap on the reel side |
| ✅ Stainless steel guides to make the fishing rod more forgiving | |
| ✅ A Graphite reel seat with the perfect fitting for optimal stability and security | |
| ✅ An EVA grip on the fishing rod that is highly durable and rigid | |
---
Not fishing rod and reel combos are anglers-friendly, especially bass fishing. If you have started your fishing journey recently, this option appears to be a perfect pick. Bass anglers will love to catch Largemouth Bass with this 7 feet fishing rod.
The fishing reel from Tailored Tackle has an untangle Baitcaster Reel System. Fighting against mid- to bulky lures will be easygoing. It offers precise casting from a longer distance. You can drop your line strategically, even in a cluttered spot. Offshore fishing will be enjoyable.
Tackling spinnerbaits, buzz baits and bladed jigs is simple with a medium-heavy fishing rod. This fast-action fishing rod can help you to cast consistently, even at longer distances. Promptly making the fish head up and out from the saltwater is what you will love.
The Tailored Tackle fishing reel has seven ball bearings to minimize friction while spinning faster. Bass anglers will love its 6.3:1 gear ratio. It is a perfect choice for various techniques and presentations. You will get sufficient support to make lures come to life.
| Pros | Cons |
| --- | --- |
| ✅ A perfect choice for bass anglers to catch largemouth bass | ❌ The tip quality could be better |
| ✅ Made from graphite materials to make the rod and reel lightweight | ❌ Some complained about the Magnetic breakage |
| ✅ 7 Ball Bearings to ensure less friction | |
| ✅ 11 to minimize the friction | |
| ✅ A 7 feet rod for long-distance casting | |
---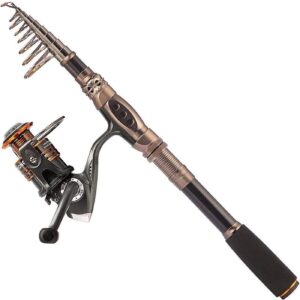 Do you prefer a compact, portable, easy-to-use fishing rod and Reel combo? This set from PLUSINNO suits you better. The fishing rod is made from 100% carbon fiber, making it highly durable and resistant to damage. You won't feel tired even after using it all day long.
Long-distance casts will be convenient. The fishing gear can detect even the slightest nibbles. Swiftly setting the hook is simple. You can fight against large fish effortlessly. Love to have more torque? Its fishing reel has a 5.2:1 gear ratio. So, you will need less effort to retrieve the bait
In addition, the fishing reel is equipped with power drive gears for precision gearing with pure cranking power. You don't have to worry about smoothness and sensitivity at all. In addition, the deep aluminum spool prevents over-running issues by implementing force on each spool side.
Moreover, its larger spool size ensures better casting distance with a much faster retrieve speed. Concerning wind knots? The fishing reel has an extensive line capacity. It can hold the spool appropriately without any overloading issues.
| Pros | Cons |
| --- | --- |
| ✅ Instant anti-reverse system to avoid turning back the reel | ❌ Not ideal for catching larger aggressive fish |
| ✅ Easy to select the engaged or non-engaged situation | ❌ A butt-end weight could make it more balanced |
| ✅ The fishing rod can handle tugging, ripping, and other challenging movements | |
| ✅ A compact design for easy storage and transportation | |
| ✅ EVA foam grip to make handle softer and more flexible | |
---
Anglers' preferences vary in reel size, rod action, and length. Ugly Stik GX2 is available in 4.8 feet to 7 feet fishing rods. The reel size is also available from 20 to 40. Not to mention the rod action, ranging from ultra-light to medium-heavy.
The fishing rod is made from a combination of graphite and fiberglass material to add better sensitivity and strength to withstand more extreme conditions. Worry about the speed and motion of the fishing reel? It has four bearings to ensure the expected smoothness.
But don't expect it to be as good as six or seven bearings fishing reels. Moreover, the manufacturer used an anodization process on the aluminum spool to prevent unwanted chipping or peeling-off issues.
The fishing reel is equipped with compression bail springs. Tacking heavy lures will be easygoing with better accuracy. Aside from that, it has a 140/6lb mono capacity. You can effortlessly catch a large number of panfish.
| Pros | Cons |
| --- | --- |
| ✅ Available in many fishing reels and rod sizes | ❌ The bail wire is of poor quality |
| ✅ A composite material in the fishing rod makes it sensitive and strong | ❌ Stiff end section |
| ✅ Four bearings to offer the minimum smoothness | |
| ✅ Double anodized aluminum spool to retain the surface color | |
| ✅ A good mixture of weight and backbone | |
---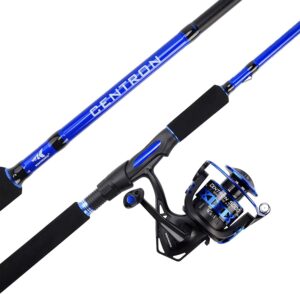 Anglers who love casting and spinning can't overlook this combo. The fishing rod has an IM6 graphite blank to make the overall construction lighter. KastKing offers two different-sized blanks: six feet for panfish, trout, and bass; and eight feet for catfish and other big fish.
The fishing rod has stainless-steel guides to ensure no corrosion and rust build-up if you use it in saltwater. More importantly, you won't have to face bending problems.
Love to tackle smaller lures and jigs for shorter casting? Its lightweight construction can entice finicky fish to bite. Hence, land ability, castability, and setting up hooks will be easygoing. The fishing rod has a contoured EVA handle to hold the unit comfortably and securely for hours.
Precise line management is crucial in fishing. The combo has a Centron spinning reel to prevent on-and off-the-reel issues. KastKing offers two fishing reel sizing options: 2000 for casting up to 5 lbs fish; and 5000 to target bulky fish like bluefish or stripers.
| Pros | Cons |
| --- | --- |
| ✅ Ten ball bearings in the fishing reel to decrease friction and boost speed | ❌ A fully locking system in the reel could be better |
| ✅ Available in both 5.2:1 and 4.5:1 gear ratio | ❌ Lack of instructions |
| ✅ Aluminum spool to make it stronger and more durable | |
| ✅ Graphite frame to cast better from more distance with more accuracy and control | |
| ✅ High-quality O-ring inserts to use with mono and braided lines | |
---
Which Combo To Choose Based On Fishing Technique?
Based on your fishing technique, you can choose either of these three combos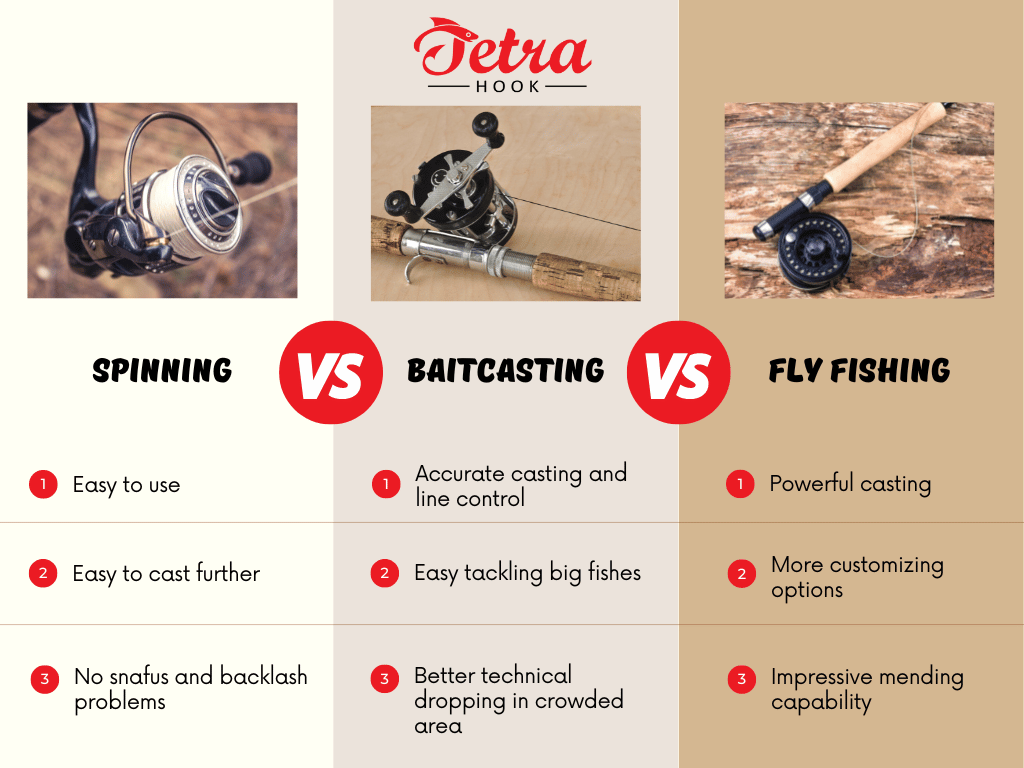 Spinning Rod and Reel Combos
Whether you are right- or left-handed, spinning rod and reel combos are perfect for any new angler.
It is relatively easier to use. Casting light lures in further are hassle-free. Adjusting the drag system appears less complicated while you fight with a fish.
You don't have to be concerned about snafus and backlashes problems in a spinning rod and reel combo.
This combination allows you to cast effortlessly against heavy wind compared to other fishing gear. Even low-angle casting will not be an issue.
Baitcaster Rod and Reel Combos
If you prefer more accurate casting and better line control, a baitcasting rod and reel combo is the best choice. You can rotate the spool precisely.
The main advantage of baitcasting is slowing down the lure speed when it falls into the saltwater.
Tackling heavy and oversized fish is easier with a baitcasting rod and reel combo.
Their higher torque allows you to retrieve the bait with fewer efforts. Additionally, you can implement more energy to tackle the fish.
Another benefit of a baitcasting rod and reel combo is the better technical dropping, even in a crowded area. You can do offshore fishing with this combo easily.
Fly Fishing Rod and Reel Combos
Fly fishing rod and reel combos are the best choices when it comes to powerful casting from a longer distance.
They offer ample strength to fight against larger fish.
This combo provides more customizing options. Hence, you can target your preferred fish more precisely.
Another advantage of a fly fishing rod and reel combo is that anglers will have better line control in various challenging situations.
How to deal with moving water? The mending capability of fly fishing gear is pretty impressive. You can maintain a stable condition with improved in-line control.
How to Choose the Best Fishing Rod and Reel Combo for Saltwater
A fishing rod and reel combo is a long-term investment. You want to get the best bang.
That's why you want to be an informed buyer before choosing a particular option.
The followings are the top crucial factors you should not overlook.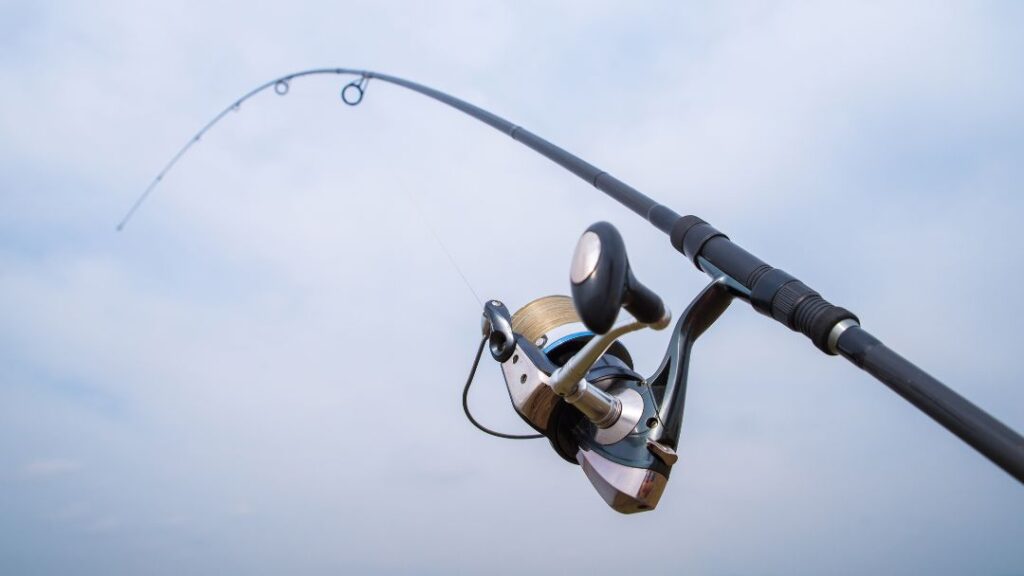 How Simple is the Fishing Reel to Operate?
The operating system of a fishing reel is one of the most critical factors.
You must consider its casting performance and how the lure or bait is thrown in the water.
Another crucial point is the spool design affects your drag function and casting performance.
Based on the spool lip and its size will determine how much friction it will reduce.
It is necessary to implement the right amount of force or tension to implement for taking line off the spool. A drag system performs this critical role.
You can't also overlook its retrieve mechanism too. It involves how quickly you get several inches of the line back on the spool.
What Valuable Features Does The Fishing Reel Have?
Count quality over quantity. What is the use of having additional features if it doesn't ease your fishing experience?
Look for features like an instant anti-reverse system that avoids turning backward the reel.
Another handy feature is the automatic bail system that automatically moves a fishing reel bail from an open position to a closed position.
Choose a fishing reel with an EVA grip to make it softer and more flexible. You can hold the unit all day long.
How Efficiently Does The Fishing Reel Contribute To Line Controlling?
Some anglers are tired of experiencing continuous tangles and snags. A decent line control will minimize this problem.
More importantly, it allows you to hook additional fish. Plus, it contributes to long and accurate casting.
It allows anglers to precisely stop the line whenever it is needed. You can't have too much or too little line.
An excessive line on the fishing line will cause the line to get off the spool in coils.
On the other hand, too little line results in underfilling the spool. It may lead to increased friction. In some cases, the line may break.
How Versatile Is The Fishing Reel To Use?
Anglers love to fish in lakes, ponds, rivers, and definitely, the ocean. But not all fishing reels are ideal for saltwater fishing.
Weather, tides, and currents will affect your fishing performance. Challenges and adrenaline rushes are common in deep-sea fishing.
Choose a versatile fishing reel that you can use on various spots. Whether jigging or bait fishing, a versatile fishing reel can handle everything.
The fishing gear must support you in casting long distances by holding an enormous amount of line.
What Is the Material Used To Construct The Fishing Reel?
The average lifespan of a fishing reel can be anywhere from six to ten years or more. It depends on construction quality.
When choosing fishing reels for some saltwater, stainless and brass are the top choice.
It ensures long-lasting durability and performance under normal fishing conditions.
However, aluminum alloy is the best choice if you prefer a more high-end option. Its more arduous construction allows the fishing gear to perform consistently.
Fishing larger fish without breaking the gear is easygoing. It is not hard to tackle more giant species.
What Should Be The Reel Size Of A Fishing Reel?
If you are only interested in inshore fresh and salt, a small 3000 reel is a good choice.
It is usually perfect for short casting and 30m or less chucking. This type of fishing reel can handle up to 5lb mainline on the spool.
If you prefer fishing on deep and hard-flowing rivers, a 5000-size reel appears excellent.
This kind of fishing gear seems ideal for larger inshore targets. You can catch barracuda, stripers, bluefish, Mahi Mahi, etc.
But when fighting against some pretty large fish, an 8000-10000 size reel seems a better pick. You can go for surf, rock, or ocean boat fishing
How Does a Rod Action Affect Your Fishing Performance?
The bending capability of a fishing rod without a break is known as rod action. It usually occurs when the rod bends.
Then the fishing gear shifts to its prior shape and position.
Faster action rods are more sensitive than medium or slow action rods.
The main advantage of super-fast action rods is their stiffness to fight against larger fish. You can promptly get the fish's head up and out.
But, if you usually prefer to catch small fish, like a panfish, slow actions are a better choice.
They are an excellent choice for fly-fishing applications due to their flexible action.
How to Pair a Fishing Rod with a Fishing Reel?
When choosing a fishing rod and reel combo, ensure it fits the particular range of fish you want to catch. Both fishing gear must have a perfect combination.
Never think heavier fishing rods can always handle heavier fish. You need to focus more on the rod's rigging and line capability.
For example, a heavy fishing rod with a light line may cause the line to break more quickly than the pole.
On the other hand, a lightweight fishing rod with a heavy line may cause the pole to break more quickly than the line.
There should be enough balance between these two aspects. You can achieve this balance by determining your fishing technique& style and fish size & species.
What Should Be The Length Of Your Fishing Rod And Combo?
A fishing rod can be anywhere from 4 to 15 feet. The simple rule is, "The more, the better."
Your targets will determine the best length of a fishing rod.
For example, a fishing rod of six to eight feet in length appears perfect if you are only interested in bass fishing.
But, when you only care about achieving a shorter precise casting, select a short rod with six feet or less.
Longer rods are better for fighting big fish. For instance, a seven-foot casting rod is essential if you want to catch topwater lures, smaller jigs, or Texas rigs.
But, when you prefer long-distance casting, select a ten feet rod. It is perfect for nymphing techniques.
This lengthy fishing rod will give you enough support to fight vigorously against mighty grown-on trout and haul.
Wrapping Up
Each fishing rod and reel combo from our list offers a balance of flexibility and strength. Choosing a particular option requires determining what species you are targeting.
More importantly, you don't want to overlook your preferred fishing technique. It will help you choose the best fishing rod and reel combo for saltwater.