Fishing is fun for everyone. People with handicaps too can enjoy fishing as much as everyone else. In order to do so, they need specially designed disabled fishing equipment. These include gear and devices exclusively made to cater to the needs of individuals with disabilities.

A physical handicap might be temporary or permanent. It can be age or disease-related, from physical immobility to visual impairment. Whatever the handicap, the wide range of disabled fishing equipment has something for everyone.


Why Disabled Fishing Equipment
In the USA, more and more people are choosing fishing as a hobby. These also include an increasing number of physically challenged Americans. Every year, people with disabilities are turning to a fishing hobby to improve their quality of life.




Many more people choose fishing to help them heal from a recent injury or illness. This growing demand coupled with innovative technology has resulted in the wide availability of disabled fishing equipment. What's more, newer and more efficient disabled fishing equipment is hitting the market every day to make fishing easier and more enjoyable for all.
If you know someone who is going handicapped but does love fishing, you can consider buying this apparel for them:
1. Adaptive Fishing Rod Control Aids:
A key challenge for a disabled person is to hold and operate a fishing rod. Thankfully, adaptive fishing rods and control aids have taken care of this problem. These include:
Arm Braces
Arm Braces are effective for people with limited mobility, especially in one of the arms. These are semi-metallic or non-metallic supports.
Arm braces are clamped onto a person's arm for holding the rod in position. With the other free hand, a disabled person can now maneuver the reel, freely.
Shop Related Items from Amazon:
1. Yakattack Leverage Landing Net
2. Blue-Ra Y Shot, Fishing Slingshot
Body Brace for One-Arm Fishing
A body brace is a harness belted around the shoulders and the back. These turn casting and retrieval into a single-handed operation. After casting, the angler can fix the rod to the metallic holder attached to its body. This gives them better control with one hand.
Shop Related Items from Amazon:
1. Waist Belt Rod Pole Holder
Rod Holders
Rod holders are attached to a boat or a solid structure on the shore. These eliminate the need for holding the rod all the time. It reduces the need for constantly lifting and holding the rod, for a disabled person. They only have to act as soon as a bite happens, to set the hook and retrieve their catch.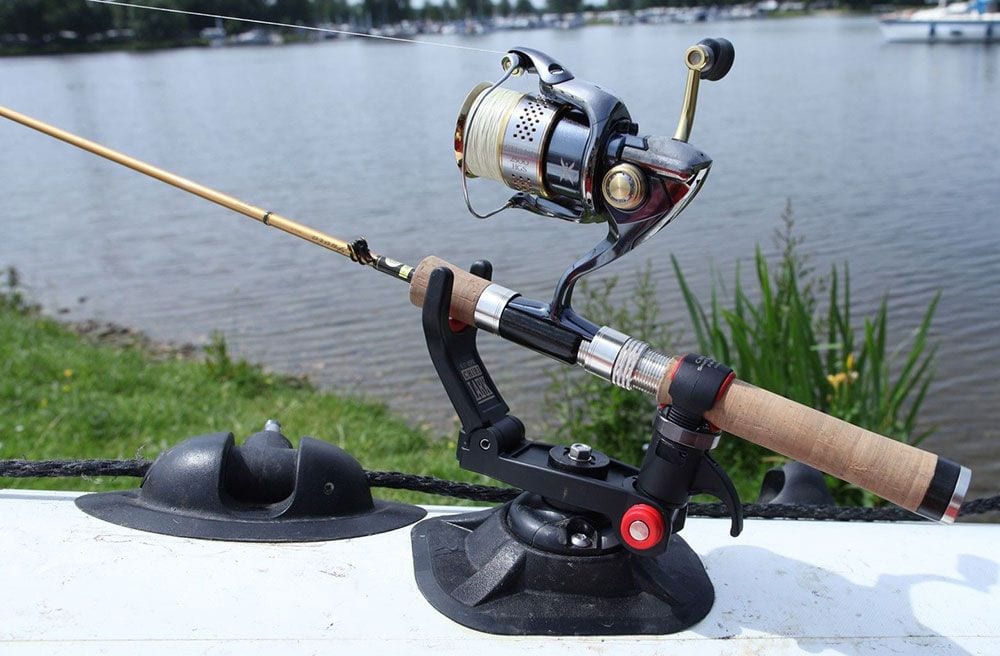 Shop Related Items from Amazon:
1. Fishing Rod Holder Large Clamp
2. Electric Fishing Reels:
Electric Fishing Reels are small devices attached to an existing fishing reel. This type of Fishing Reel makes casting as simple as the push of a button. A physically disabled person can send the line many feet away with a press of a button. Retrieval too is automatic. Press. Retrieve.
3. Fishing Tackle Aids:
People are different. Their disabilities and needs vary too. Many people do not need an all-in-all solution. For them, smarter solutions are available, to address their specific disabilities and needs. These include:
Reel Cranks
Reel cranks are hand devices that give a disabled hand a solid grip on the reel. These are very effective for persons with limited mobility in their fingers.
Magnetic Tip Threaders
Visually impaired persons usually have a lot of trouble putting a line through the eye of a hook. Magnetic Tip Threaders come in handy. This is a magnetic device, which can pull the tip of a line through the eye of a hook magnetically and instantly. This eliminates the need for visual precision that is normally required.
Easily Attachable Lures and Flies
Easily attachable lures and flies are an important part of disabled fishing equipment. These are effortless fish attractants. They do not require much hand mobility or precision for attachment and use.
Special Bobbers
Bobbers detect bites from a distance. Specially designed bobbers are available for people with visual impairments. They come in special colors and with higher visibility features. They are easily attached. Special bobbers make it a lot easier to notice a strike and set the hook.
Shop Related Items from Amazon:
1. Lixada Carbon Fiber Fishing Reel Crank
2. TYEPRO Fishing Hook Threader
4. Disability-Specific Adaptive Fishing Equipment:
The Warriors Tackle Supply is an example of disabled fishing equipment made purposely for war-related disabilities. There may be more such initiatives for special groups of disabled persons, by organizations dedicated to their particular causes.
5. General Equipment for Disabled Persons Used in Fishing:
In addition to disabled fishing equipment, there are general facilities and types of equipment to help the disabled and handicapped enjoy their fishing experiences with ease and peace of mind. These include:
Walkers, Wheelchairs, and Safety Belts
Many walkers, wheelchairs, and safety belts have secure locking and braking systems, suitable for fishing on a boat and from the shore
Boats with Flat Front Deck
Modern boats generally have flat decks at the front. These make fishing on a boat more feasible and easy for disabled people.
Public Access Piers
Piers are designed structures on the shore, with access for handicapped people. Piers must be at least 8 feet wide for persons in a wheelchair to access and maneuver around, safely.
Life Jackets
A must-have for disabled persons, for additional safety near lakes and on the sea
Watch the below video by AdaptiveSolutions on Disabled Fishing Equipment for Handicap Fishing
Precaution and Safety
When it comes to disabled fishing equipment, less is more. While selecting adaptive gear, pay attention to the specific physical need in question. Select the right product to address a disability precisely. Do not overburden a physically challenged person with extra equipment.
Persons with significant physical disabilities must always be accompanied during fishing and around water. There should be enough room on a boat or a riverbank. This makes movement easier and safer while fishing, especially with the disabled person on board. Surrounding surfaces must be non-slip. Use non-slip mates widely available in the market to make slippery surfaces safer. As always, put personal safety and the safety of your loved ones first!
Conclusion
Fishing is fun for everyone. For a disabled person or those in the process of recovery, it can boost the quality of life in more ways than one. Thus a large variety of easily available disabled fishing equipment has made angling a lot easier, more practical, and safer for the physically challenged.