When it comes to an entirely customizable experience, fly fishing rods are a top choice. You can use this fishing gear for catching salmon fish. Besides applying your knowledge of salmon's feeding habits, knowing how to set up a fly rod for salmon fishing is crucial.
Salmon fish is big, strong, and jump a lot. They are also mysterious because these fish migrate from one place to another. This article will cover the basics of setting a fly rod for salmon fishing. Let's get down without further ado!
How To Set Up A Fly Rod For Salmon Fishing
Your success in salmon fishing comes down to if you have the correct setup.
It will be much easier to reach a little bit further in rivers or streams. Also, you enjoy your time at the water.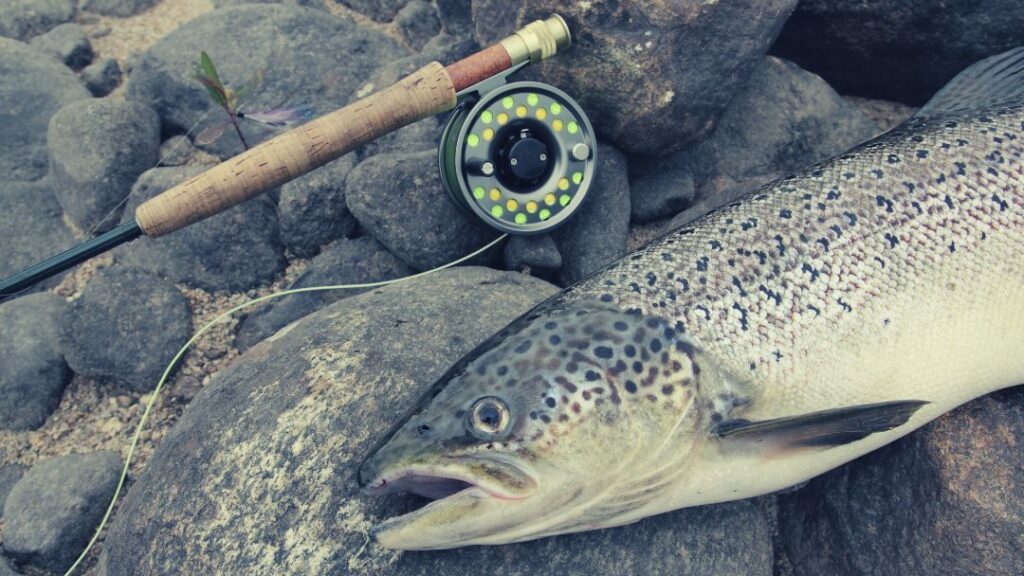 Rod Setup
As mentioned early, it is a solid rule of thumb to use at least a 13-foot fly rod for salmon fishing.
Also, you want to choose a sturdy reel with a larger size to have enough room for backing.
Next, anglers can use a thick nylon line. It will work perfectly as a shooting line.
Besides, you can utilize a vision hybrid line that allows you to change the tips. It is often enough for fishing in any larger rivers with deeper holes.
However, changing from different tips is entirely okay for fly fishing. Tips such as an intermediate tip or a floating tip are good to use.
Setting Up The Correct Drag System
A drag system plays a crucial role in controlling the pressure you use on a fish to put on the fly line by breaking it.
You want to set it up perfectly to land your fish successfully. Adjust the drag system after hooking the scale to the welder loop.
Make sure to initially string up your fly rod as you do for starting fishing.
Choosing The Right Fly Line
Selecting the correct fly line is essential for successfully casting and catching your salmon fish out on the water.
You want to select the ideal size depending on the fishing conditions.
The fly line should match your fly rod. It needs to handle flies perfectly
Also, you want to select a particular option compatible with your fishing temperatures.
Picking The Perfect Flies
Another important job is getting the ideal flies. When it comes to fly fishing, salmon are not as picky as some fish.
You can use various types of flies for fly fishing. But implementing some techniques will make you more successful.
For example, know about the local baitfish and insects' colors, sizes, and patterns, and choose similar flies to tackle salmon easily.
Use smaller flies in summer and larger ones in winter. In addition, heavy and wet flies are ideal for underwater fishing and dry for the topwater surface.
The following table shows the top flies for various salmon fish.
| | |
| --- | --- |
| Salmon Type | Best flies |
| King or Chinook Salmon | Chartreuse and blue, Pink and orange, Purple and black, Black and blue |
| Coho Salmon | Foxy Wogs, Hammerhead Hair Wogs, Grizzly Wulff Polywogs, Popper Wogs |
| Chum Salmon | Pink, Fuchsia, Chartreuse, Starlite Leech, Dolly Llama, Lead Eye Egg Sucking Leech |
| Sockeye Salmon | Copper Swan, Egg Sucking Leech, Hex Nymph, Dead Drifted, Sparse Fly |
| Pink Salmon | Dolly Llama, Stinger Clouser, Clouser Minnow, Karluk Shrimp, Polar Caballero. |
Selecting An Appropriate Fishing Technique
If you are especially fishing on rivers, your fishing technique plays a key role.
Anglers can utilize various types of fly fishing techniques.
Swinging
Are you targeting King or Chinook Salmon? The swinging fishing technique can be surprisingly effective.
The main advantage of this technique is that it gives an opportunity for your fly to flow with the current. It will then lift and rise again towards the surface.
You will get a more natural drift whether you use live or artificial bait. Plus, your flies will need minimal line management, unlike nymphing techniques.
But avoid holding the rod tip too high off the water. Otherwise, it will increase the slack.
Instead, practice keeping the fly rod tip very close to the water surface while swinging.
Stripping
If you want to catch Sockeye salmon or Kokanee salmon¸ stripping fishing technique appears practical.
But how does it work? The stripping fishing technique mainly involves trapping the line with your trigger finger.
After releasing a bit of pressure on your trigger finger, anglers will use the other hand to draw the line toward them. It helps them to get off the slack from the fishing line.
A slow, medium-length strip is best for salmon fishing. Keeping the stripping matched with the salmon fish is a solid rule of thumb.
Nymphing
It is one of the most effective fishing techniques, where anglers mainly use artificial flies that look like live bait.
You want to keep the flies in deep water to get into the feeding lane.
However, if your flies are too lightweight, they may break due to higher pressures. Hence, your flies need to be slightly weighty.
Follow fly patterns to imitate nymphs. It will help you target hungry salmon quickly.
Various Types Of Fly Rods
Fly rods are available in various weights and lengths. The size of a fly fishing gear can affect your fishing performance.
But how do you measure your performance? It involves accuracy, lifting power, leverage, ability to land fish, distance, line control, etc.
Before choosing a particular option, decide first which aspects you want to give more preference.
For example, shorter fly rods offer ease of travel, better accuracy, and effortless landing of the fish.
In contrast, longer fly rods elevate your casting performance and allow you to reach distant spots.
The following table gives you a complete idea regarding which rod to use depending on the fishing water conditions.
| | | |
| --- | --- | --- |
| Fishing Conditions | Fly Rod Weight | Fly Rod Size |
| Small rivers or streams | 7/8 or 8/9 wt | 13 feet |
| Medium rivers or streams | 8/9 or 9/10 wt | 13–14 feet |
| Large rivers or streams | 9/10, 10/11, or 11/12 wt | 14–15 feet |
Fly Fishing Rod Weight
The weight of a fly fishing rod can be anywhere from 2-14 wt.
Wondering what weight fly rod for salmon fishing should you use? Heavy rods are strong, whereas lightweight rods are weak.
Generally, lightweight fishing fly rods are ideal for small salmon, and heavier options are suitable for giant salmon.
3, 5, and 8 wt are the most commonly used fly rods for beginners.
However, considering rivers' or streams' conditions is crucial. Generally, the larger the river or stream, the heavier rod you will need.
Fly Fishing Rod Length
Longer rods are better for larger bodies of water. It allows you to cast better by reaching the deeper water level.
Fly fishing rods are available from 7 feet to 15 feet. If you want smooth casting in deeper water, longer rods are better.
However, too-long rods are a bit complicated to carry around and transport.
Shorter rods are okay to use if you are only fishing in smaller rivers or streams.
Tips For Fly Fishing To Catch More Salmon
If you are self-taught, you will likely pick up some bad habits. They can be really tough to kick over the years.
Here, we will share some bonus tips as you try to become a better caster and fly angler.
It will help you to increase your learning curve and avoid a lot of those bad habits.
01. No Strung Up
Leave the idea of having your rod already strung up with a fly in mind before you get to the water.
It is a particular push that you want to start fishing right away.
You want to pay attention to the rhythm of the water, the flows, the kind of water you are fishing for, and what bugs are on there.
It is really a good idea to stop, relax, and take a deep breath. Then, look into the water carefully for rising fish.
Also, inspect particular holes and then plan your attack accordingly. It will reinforce good skills and make you a better angler.
02. Avoid Getting Down To The Water Too Quickly
There might be a lot of fish next to the bank where you stand. But, when you quickly drop off, it will result in spooking the nearby fish. And, they will go off the band.
The best approach is to start fishing the bank from the well on shore.
Make sure you have worked it, and then gradually work your way out to the water.
03. Opt For Sharp Hooks
With a dull hook, you will lose a lot of fish. It can start to dull, especially if you're dragging across rocks.
If you are having trouble with your fly getting stuck on something, you have to coerce it out of the river bottom or out of a tree
What you should connect after the tapered tip is a straight mono leader. Make sure there is still a hook on your fishing gearbox.
Always sharpen your hook before setting it up using a hook sharpener. A few quick wipes will make the hook ready to go again.
04. Use The Other Hand For Line Control
Fly fishing is mainly a two-handed sport. For example, if you are right-handed, you will use the right hand for casting and the left hand for line management.
You want to strip the line off the reel to get more distance and more line out on the water bringing in slack.
It is crucial to control all the excess lines properly. Make sure to check the drag on your reel if it is turned off and lose all the way, and you pull the line.
Final Thoughts
A top-performing fly rod can make a massive impact on your salmon fishing. When it comes to achieving success in the water, you want to set up the rod precisely.
Making a better combination of fishing reels, lines, flies, baits, and other fishing gear is crucial. The more cautious you are, the more fish you can catch.
We have already outlined how to set up a fly rod for salmon fishing. Make sure you follow our bonus tips to be more successful in fishing. 
Also, if you don't like fly rods, you can opt in for spinning rods and reels for salmon fishing.